SPRING HAS SPRUNG!
Winter is finally losing its grip and signs of spring are popping up all around us. Kids and parents alike are ready to get outside and enjoy all that spring has to offer. Here are some tips to make that transition with ease:

1. Helmet check. Spring is the perfect time to make sure your child's helmet fits properly. You might be surprised at how much they have grown over the winter! Be sure the helmet is certified by the American Standards Testing Materials (ASTM) and insist that they wear it whenever riding a bike, scooter or skateboard.
2. Test those outdoor toys. Make sure when you pull the toys out from storage that you inspect them carefully. Skateboards, wagons and bikes all need a tune-up to ensure they are safe for the kids to use.
3. Schedule a visit with the pediatrician. It's common to get a physical just before school starts in the fall, but seeing your pediatrician in the spring ensures your child is ready for being active this season. The warmer weather brings spring sports and outside play time – you want to know your child is physically fit before heading outdoors.
4. Make SPF a priority. With the days getting longer, the kids will be exposed to more sunlight and need to be protected every day. Look for 30 SPF or higher and protection from both UVA and UVB rays. The key is to reapply often – every 30 minutes is ideal.
5. Check playground padding. The area around a playground takes a beating over the winter months. Be sure there is adequate padding in your playground, and those in your community. It is recommended to have mulch, shredded rubber or sand at least 9 inches deep and 6 feet out from all the play equipment.
6. Stay Hydrated. Drinking water is good at any age! As kids start to be more active outside, increase those fluids. Stay away from sugary drinks and watch for signs of dehydration, which include dizziness, headache and nausea. A good indication they are drinking enough water is clear or pale yellow urine.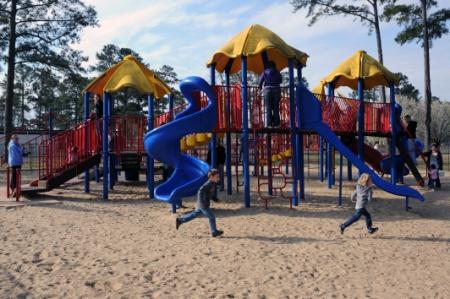 7. Protect Teeth and Eyes. If your older child is signed up for football or lacrosse, be sure to get them a mouthguard to protect their teeth. In addition, you may want to add protective eyewear. Eye injuries can occur on the playing field by a flying ball or by being poked by another athlete.
8. Talk about Pain. As soon as your child is old enough to articulate their pain threshold, encourage them to listen to their body. You do not want them to push through their pain or overwork themselves. Encourage them to tell you or their coach if something doesn't feel right.
9. Seek the Shade. Kids tend to overheat more than adults. Be sure to take a break in the shade periodically. Dress in layers so you can be comfortable when a chilly morning turns into a warm afternoon.
10. Check Adult's Credentials and Training. You are not out of line to insist that the adults who supervise your child are certified in First Aid or CPR. This includes babysitters, coaches and teachers.
No matter what you do, make it a safe spring!