Halloween, the spooky season filled with costumes, decorations, and, of course, candy. While it's tempting to indulge in the sugary delights that Halloween brings, there are healthier alternatives that can satisfy your sweet tooth without compromising your health. In this blog post, we will explore some creative and delicious alternatives to traditional Halloween candy, ensuring both kids and adults have a fantastic and healthy Halloween celebration.
1. Fruit-O-Lanterns: Nature's Candy
Instead of sugary treats, why not carve out some time to create Fruit-O-Lanterns? These adorable and nutritious snacks can be made from oranges, apples, or any other fruit of your choice. Simply carve fun and spooky faces into the peel, and you have a delightful, vitamin-packed alternative to candy. Not only are they visually appealing, but they are also a great source of fiber and antioxidants.
2. Dark Chocolate Delights
If you're cra
ving chocolate, opt for dark chocolate instead of milk chocolate. Dark chocolate contains less sugar and is rich in antioxidants. You can find dark chocolate in various forms such as individually wrapped squares or even in Halloween shapes. Dark chocolate not only satisfies your chocolate cravings but also offers health benefits such as improved heart health and enhanced brain function.
3. Trail Mix Madness 
Create your Halloween-themed trail mix by combining nuts, seed
s, and dried fruits. Nuts like almonds, walnuts, and cashews provide healthy fats and protein, keeping you feeling full and satisfied. Add in some dried fruits like cranberries, apricots, or raisins for natural sweetness. For an extra spooky touch, throw in some yogurt-covered raisins or dark chocolate chips. Trail mix is a versatile and customizable snack that provides a good balance of nutrients, making it an excellent alternative to sugary candies.
4. Spooky Veggie Platter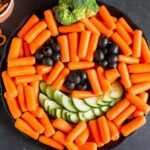 Turn your Halloween celebration into a colorful and healthy feast with a spooky veggie platter. Use a pumpkin-shaped bowl for dip and surround it with an assortment of fresh, crunchy vegetables like carrots, celery, cucumbers, and bell peppers. Hummus or yogurt-based dips can add a creamy texture without the excessive calories found in many store-bought dips. Not only does this option offer a variety of vitamins and minerals, but it also provides a satisfying crunch that can curb your snack cravings.
5. Ghoulishly Good Smoothies  
Blend up some nutritious and delicious smoothies with Halloween-inspired ingredients. Try a green "Monster Mash" smoothie made with spinach, banana, pineapple, and coconut water. Or create a vibrant orange smoothie using carrots, oranges, and a touch of ginger for a zesty kick. You can even make a purple smoothie by blending blueberries, yogurt, and a splash of almond milk. Smoothies are a great way to sneak in fruits and vegetables while satisfying your sweet cravings.
Conclusion
This Halloween, let's embrace healthier alternatives to traditional candies. By incorporating these creative and nutritious options into your celebration, you can enjoy the festivities guilt-free. Whether you're hosting a Halloween party or handing out treats to little goblins and ghouls, these alternatives will not only delight your taste buds but also contribute to your overall well-being. So, why not give these ideas a try and make this Halloween a spooktacular and health-conscious one? Happy and Healthy Halloween!